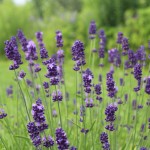 Majestic purple in your flower garden….what's not to love about that! Lavender is low-maintenance and a gorgeous addition to any garden or flower bed. It can also be used as a hedge, ground cover or border.
Add lavender to your herb garden and use it in cooking along with your other savory herbs!
Lavender likes full sun and well-drained soil….it does not like to have it's roots wet!
Learn more about how to plant here.
Plant lavender and enjoy it's beauty and fragrance fresh or dried all year long!