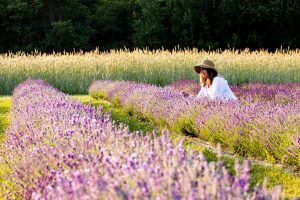 Photographers are welcome to have photography sessions here. Summer is a very busy time here and during the day when the lavender is in bloom we can have hundreds of visitors in one day.  We want our daytime visitors to be able to freely roam about, sit and relax, cut lavender, etc. without feeling like they're getting in the way of a photography session.
We charge for evening hours so that you have the best lighting available and you'll have the entire field to yourself. We provide a variety of props (baskets of flowers, blankets, etc.) and you can re-arrange furniture to your liking.
The lavender typically starts showing purple color mid to end of June and peaks around the beginning of July. We cannot guarantee the stage of the bloom as it's weather related and each year is different. We start harvesting in July but we try to leave a few rows of color so that our photographers still have a beautiful backdrop for longer into the month. The season is relatively short but the field is lovely all through the summer. We also have some magnificent sunsets throughout the season.
Fees and more details below.
A signed waiver, returned to us in advance is required of all photographers. Link to the waiver and more information can be found here:
Photographer Waiver to be signed
This is for the use of the premises only. Does not include photographer!
Please book online using the Square booking and payment app. below.
_____________________________________________________________________
Tent Rental
Our white tent is available to rent….have your small event here! During our open hours: a 2 hour block rental is $100 ($50 for each additional hour). Evening event blocks begin at 5:00 pm at $200 for a 2 hour block ($75 for each additional hour). That being said….you are welcome to have small events (showers, tea or birthday parties, classes, etc.) here at the farm for free during our open hours….the tent rental is if you want exclusive use of the tent. The tent has 4 picnic tables that seat at least 24 people. There is no electricity available. You are welcome to bring food. We will reserve the tent one hour before your rental time so you can set up and decorate (if desired).
Feel free to ask for our white wicker chair for your guest of honor.
We ask that you refrain from bringing alcohol onto the premises, playing loud music, or bringing pets.
There is a porta potty on the premises. We have a walking path, flower gardens, corn hole game and lavender gift cottage.
TO SCHEDULE A TENT RENTAL… please contact Peggy at 207-992-3070
______________________________________________________________________
Weddings
We have lots of people ask if we have weddings here, but because we want to keep our farm small, friendly, and open to the public, I'm sorry to say, we do not.
Our tent is available to rent for wedding showers and we have wedding favor and bridesmaid gift ideas in the lavender cottage and lots of dried lavender to make your special day beautiful!
We do have a wedding venue recommendation for you and it is just down the road from us, so potentially you could have some of your wedding photos here amongst the lavender and flower gardens. Please see the link below for more details about The Grove venue. It's beautiful and the owners are wonderful! https://www.thegrove.events/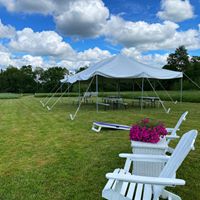 Thank you for your interest in Moore Manor Lavender, we are excited to share our farm with you. We've planted many varieties of lavender as well as other plants and flowers for you to use as backdrops in your commercial photography business. We hope you enjoy our property and can use it to promote your business. 
We are open to the public from 10:00 AM to 5:00 PM Monday to Saturday.

During the day

, our customers take priority over commercial photographers. You're welcome to take photos (no charge during open hours) but please do not 'claim' an area as your own so that our customers feel uncomfortable. 

During our off hours – 6:00 AM -10:00 AM and 5:00 PM – 8:00 PM our property is available for your private commercial photography sessions.  We schedule one hour sessions, for example – 5:00-6:00, 6:00-7:00, 7:00-8:00 PM. If you sign up for one or more of these blocks, you will have exclusive use of the farm as your backdrop. We will try to provide a few props like baskets of dried or fresh lavender for you to use. The 2023 one hour fee is $55.

Rain dates: We are all at the mercy of unpredictable weather. If it's raining to the extent of you not being able to use our facilities, we will do our best to reschedule.  

We do not have a changing room so please plan accordingly. 

Children: We love children (and have a few of our own!) but we request that they are supervised at all times. We do not allow them or anyone else to run around unattended, climb trees, our fountain, run between rows of lavender or flower beds, or basically do anything that would damage themselves or our property. Please emphasize this to your clients. 

We are not responsible in any way for lost, stolen or damaged personal property that you bring to our farm. This includes photography equipment, props, clothing, etc.

No pets are allowed in or around the lavender.

No smoking or alcohol anywhere on the property. 

Cancellation policy:

 

All reservations are non-refundable.

If due to inclement weather at our farm, we will do our best to reschedule another time. 

Bloom:

We cannot guarantee the stage at which the lavender will be blooming. Any advise that we give out is based on previous years. 

Photographers are required to fill out and sign the liability waiver at least 2 weeks ahead of scheduled time or scheduled time may be cancelled.  

Insurance

:

Professional photographers must provide us with proof of insurance ahead of the scheduled session. 

We reserve the right to ask you and your clients to leave if any of the guidelines above are not adhered to. It's your responsibility to share this information with your clients ahead of time.