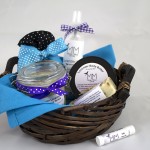 Oh what fun it is to pamper ourselves with lavender products that make our skin feel silky smooth! Of all the lavender uses out there I think this is my favorite!
Here are just a few products to indulge in: lavender sugar scrub (exfoliates and conditions skin), lavender bodybutter (intense moisture therapy to replenish and enrich skin), lavender lip balm (moisturize and protect lips), lavender body mist (delightfully fragrant scent), lavender body soap(for healthy glowing skin).
You can purchase these products or make them yourself!
Lavender precautions are listed here.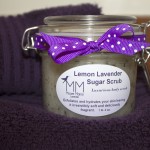 Here is my recipe for natural "Lemon Lavender Sugar Scrub" –
1 cup sugar, 1 T. lavender buds, ¼ cup coconut oil (melted), ¼ t. lavender essential oil, 3 T. olive oil, ¼ t. lemon essential oil, ⅛ t. vitamin E. Combine ingredients and place in jar. Use in shower or bath to leave skin irresistible to the touch and gorgeously fragrant.
Skin therapy at its finest!