Try these refreshing Lemon Lavender Muffins to give your traditional muffins a little boost!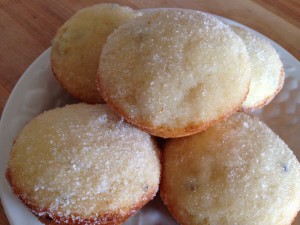 Gourmet Lemon Lavender Muffins
1 egg
⅓ c. oil
2 t. lemon extract **
½ c. milk
½ c. sugar
1 ½ c. flour
2 t. baking powder
½ t. salt
1 T. lavender buds
Topping: 3 T. melted butter, ¼ c. sugar
Mix well: egg, oil, lemon extract, milk and sugar. Add dry ingredients and stir just until blended.
Fill greased or lined muffin cups about ¾ full. Makes 10 muffins. Bake at 400 degrees for about 15 minutes.
Topping: When warm from oven – dip each muffin top in butter then sugar.
Variations: **or 3 T. lemon juice.
Quick Bread directions: place batter in greased bread pan and baking at 350 degrees for about 50 minutes. When warm from oven – brush with butter and sprinkle with sugar.
Enjoy!