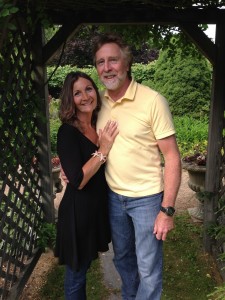 My husband Doug and I started Moore Manor Lavender in 2014 in Newport, Maine.
The idea to grow lavender had been running around in our heads ever since our children were young (we have 5 – all adults now!). In early summer, we ordered 240 lavender plugs and started to prepare a plot of land on our 8 acres. Those plants flourished throughout the summer and I started making and selling lavender products – flax seed pillows, sachets and lip balm. Our plants wintered well so in June 2015, we planted 750 more lavender plugs…and I have more products to offer including culinary lavender, note cards of our lavender and lavender mist.
Lavender with it's elegant fragrance and gorgeous purple buds is not only a beautiful treat from nature to be enjoyed and shared but it also has soothing, therapeutic qualities. The lavender flax seed pillows that I make feel absolutely amazing on achy muscles and joints when heated or frozen. They relieve aches and pains from injuries, headaches, arthritis and many other ailments that we all experience from time to time. I love making something that can comfort and help others and add beauty to their day!
In the summer of 2017, we opened our lavender farm to visitors and we have a cottage full of dried lavender and lavender products. We offer cut your own fresh lavender in season! Come visit, bring a lunch or a good book and just enjoy the peacefulness and beauty! Meander through the lavender or lounge in one of our many seating areas…our hope is that you leave our farm feeling refreshed!!
I hope to meet you someday, Peggy
Here are some pics of our farm and family…