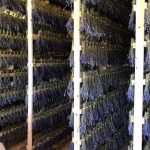 NEW HOURS: ***Open by Appointment….call Peggy anytime at 207-992-3070! The cottage is full of dried lavender and gifts….come do some shopping!! 

Directions to Moore Manor Lavender…..
302 Stetson Road, Newport, Maine. Exit 161 off I-95, take left off ramp and go straight for about 2.5 miles (you will cross straight over Route 2). We are on the left, our farm is behind our beautiful brick home!
Come cut your own lavender or just meander around and take photos or sit and relax at one of our many seating areas. Bring a lunch, a good book or a sketch pad and soak in the peacefulness and beauty. Our desire is that you leave our lavender farm feeling refreshed!
Photographers are welcome!
We also have a little cottage full of lavender products: soap, lavender mist, culinary lavender, dried lavender, lavender flax seed neck wraps and eye masks (provides soothing relief from aches and pains), and many other products and gifts.
HOURS: Monday – Saturday, 10-6. Closed on Sundays.  Can't wait to see you!!
July 17, 2018: Come see the lavender drying in the cottage! Bring a lunch and sit around the fountain and get refreshed! We are still open Mon-Sat, 10-6.
June 25, 2018: **CUT YOUR OWN LAVENDER** The lavender field is a sea of purple hues….come relax, bring a lunch, cut your own lavender, or sit near the fountain and enjoy the gardens!
May 11, 2018, Friday: **WE ARE OPEN**  We have lavender plants for sale and lavender gifts in the cottage! Hours :  Monday through Saturday, 10-6.
March 26, 2018: **Happy Spring!!  We will have lavender plants to sell here on the farm in about 6 weeks….we're so excited to see you!! Our cottage filled with lavender products is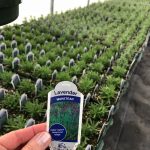 open now by appointment…just give me a call at 207-992-3070….Peggy.
*******************************************************************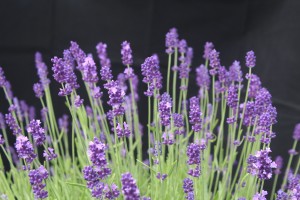 In 2014 we started our lavender farm with 250 plants after years of off and on dreaming. Instantly we fell in love with this plant! Seeing it go through each season, i
t truly is beautiful. We decided to start out cautiously as we're at the northern fringe of the growing season. Winter approached and we carefully covered the plants and waited it out to see how they'd survive.
Spring 2015 – After a long winter with lots of snow, the bare patches appeared. One word of caution – don't judge your lavender by first glances in the spring! Lavender takes a while to come to life. Lavandula angustifolia loves the dry heat (can you say Mediterranean?) and will need some sunshine and warmth to get going. Before we knew how it would survive the winter, we had to decide whether or not to order new plants in 2015. During the winter we 'bit the bullet' and ordered another 750 plants – 4 different varieties.
Fast forward– We lost about 10% or our plants the first winter which we considered to be acceptable and currently we have about 1000 plants. Peggy stays busy making lavender flax seed pillows and other lavender products, getting the culinary lavender ready to sell, and getting ready for the end of year craft shows.
We'd love to communicate with you about your experiences with lavender. Please like us on Facebook (we tend to post current happenings on the farm there) and leave a note there or send us an email (mooremanorlavender@gmail.com).We'd also like to know how you like our products or if there's any lavender product you'd like to see us carry.