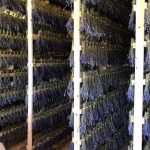 WINTER HOURS: Open by appointment, call Peggy at 207-992-3070
2019- We will start selling lavender plants and have our cottage open on May 10.
June 25, 2018: **CUT YOUR OWN LAVENDER** The lavender field is a sea of purple hues….come relax, bring a lunch, cut your own lavender, or sit near the fountain and enjoy the gardens!
May 11, 2018, Friday: **WE ARE OPEN**  We have lavender plants for sale and lavender gifts in the cottage! Hours : Monday through Saturday, 10-6.
March 26, 2018: **Happy Spring!!  We will have lavender plants ready to sell here on the farm in about 6 weeks….we're so excited to see you!! Our cottage filled with lavender products is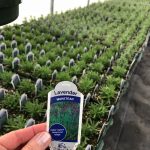 open now by appointment…just give me a call at 207-992-3070….Peggy. (Need directions? We have them on our home page, click on our logo at the top of this page to go to the home page.)
January 12, 2018: **Welcome to a new year!! We are already preparing for our next lavender bloom and a visit from you!! 🙂
Our cottage is still open by appointment so if you'd like to come shop just give me a call at 207-992-3070 or message me on facebook. We have lots of dried lavender and culinary lavender, mists, vases, soap, etc.
Excited to share the beauty with you, Peggy ……oh and…..I'm hoping this year is a really special one for you!!
October 14, 2017: **NEW HOURS – We will be open by appointment only for the fall and winter months. Call me (Peggy) at 207-992-3070 to visit….or message me on Facebook. We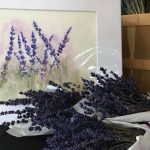 have unique lavender gifts in our cottage…antiques, lavender in bottles or vases, soap, culinary lavender and recipes, watercolor paintings and note cards, bracelets (purple of course), candles, lavender flax seed heat pillows, lavender mist, yoga mat mist, farmhouse beads and more!! I would love to see your smiling face….come visit!!
August 14, 2017: We would like to thank all of our visitors for an absolutely amazing first season! In our first month open we had over 1000 guests! We have had so much fun meeting each one of you and look forward to seeing you again next year! We are still open and have racks of drying lavender in our cottage and we are always adding new products, so stop on by! We are open Monday – Saturday, 10-6.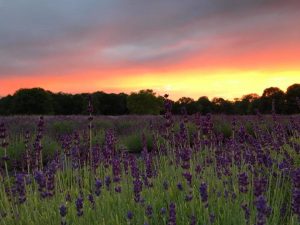 June 28, 2017: We are having fun with lots of visitors! It looks like the lavender will be at peak bloom next week – which is the first week of July, so come visit!! We are open Monday – Saturday, 10-6. And yes, we will be open over the holiday!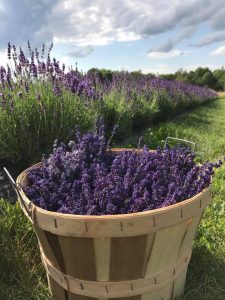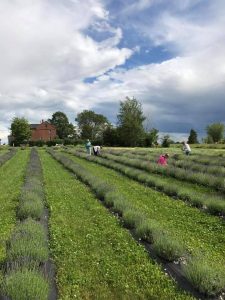 June 23, 2017: Come visit….we are opening on Monday, June 26!  We have over 800 plants waiting for your photos and enjoyment! The lavender only blooms for a few weeks so come relax, bring a lunch and browse. We will be open Monday – Saturday from 10-6. As the weeks progress, we will continue to post the days and hours we will be open.
Free to visit, pick your own for sale. Supervised children welcome. Sorry, no pets.
The brick house at: 302 Stetson Road, Newport, Maine.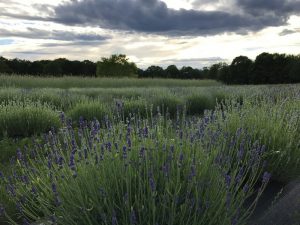 June 16, 2017: We're gearing up for our 2017 season! We'd like to keep everyone updated on what the lavender looks like so that you'll be inspired to visit.
Winter took it's toll on the older plants that didn't get covered with row cover. Please excuse their appearance. They're in rehab – getting a drastic pruning to see if they will revive. If not, they will get replaced later on.
As of today, we're seeing a little bit of color on some of the stems of Hidcote and Munstead. Please keep checking in for current photos and happenings!